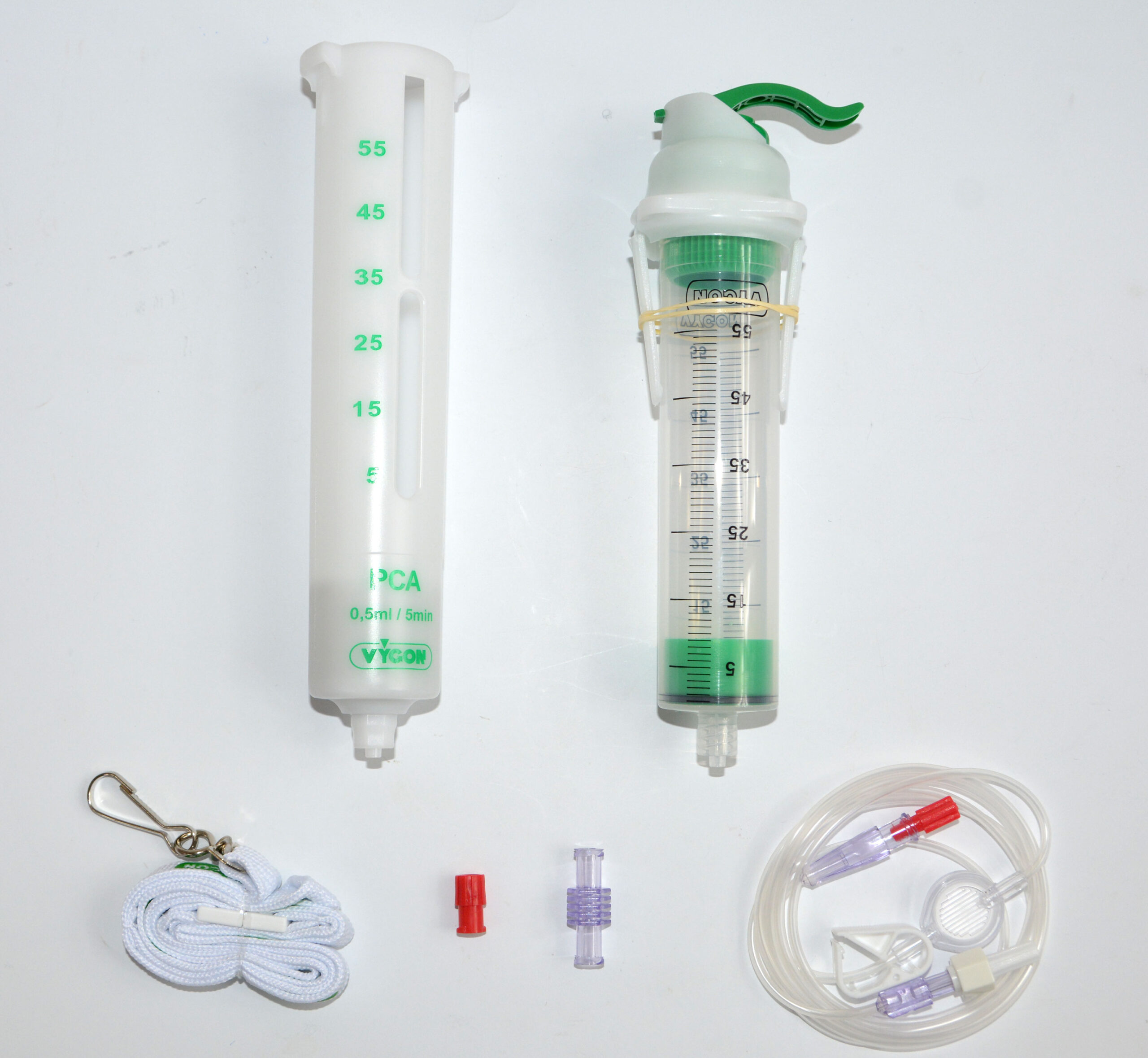 Freedom 5
Single-use mechanical device for patient-controlled analgesia.
About Product
Freedom 5 has been specially designed for pain management in the Accident and Emergency department or in the recovery room for the treatment of postoperative pain. This product is also indicated for pain treatment of patients suffering from sickle cell disease.
It can be easily set-up by healthcare personnel and is extremely simple for the patient to use: if he feels pain, all he has to do is press the lever. Freedom 5 allows the patient to self-administer a preset quantity of intravenous morphine solution equivalent to:
-0.5 ml for model 7301.05. The lockout for bolus reconstitution is 5 minutes.
-1ml for models 7301.12 and 7301.10. The lockout for bolus reconstitution is 7 minutes.
NB As the bolus reservoir is under negative pressure, downloading is not possible. The pressure that the patient must apply to activate the lever means that an unconscious patient cannot use the PCA device involuntarily. Freedom 5 can be refilled twice using the refilling sets.
The Freedom 5 kit contains:
-1 PCA reservoir carrier with inspection window
-1 55 ml calibrated reservoir
-1 capping device with lever
-1 attachment cord
-1 polyethylene storage bag
-1 female/female Luer-lock adaptor (code 892) for filling the reservoir with a syringe
-1 female Luer-lock obturator (code 888) for temporary capping of a filled reservoir
-1 label for the PCA reservoir carrier
-1 single-lumen extension tube (length 125 cm) with antibacterial and air-eliminating filter and anti-siphon valve: model 7301.10
or
-1 "Y" extension tube (length 90 cm) with antibacterial and air-eliminating filter and anti-siphon valve (lumen 1) /non-return valve (lumen 2): model 7301.12
or
-1 single single-lumen extension tube (length 125 cm) with antibacterial and air-eliminating filterand Bionector: model 7301.05
1/20

Contains Latex

: No

Contains DEHP

: No

Contains biogical or animal-based product

: No

Non-pyrogenic

: Yes
Contact Information