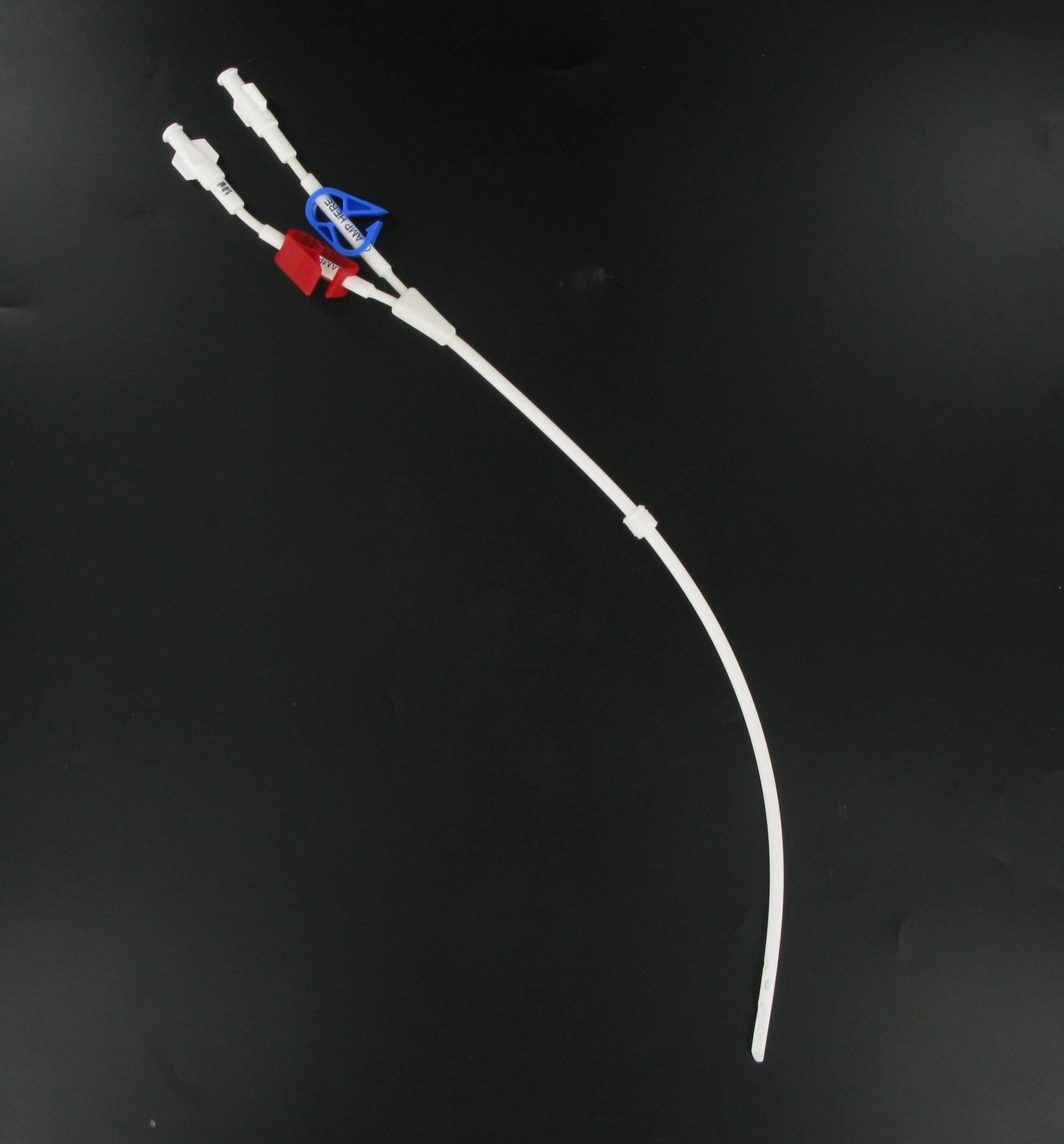 Lifecath apheresis
Double-lumen silicone catheter for long-term venous access: apheresis.
About Product
Fully radiopaque catheter with subcutaneous cuff placed at 19 cm (codes 2296.111/190/951) or 26 cm from the distal tip (code 2296.112/260/952). Inserted by percutaneous puncture with a peel-apart Desilet.
The proximal extension tubes have clamps (blue for venous : blood return, red for arterial : blood aspiration). The venous distal opening is separated from the arterial opening by a distance of 2 cm.
Tray presentation (double packaging) containing:
1 double-lumen XRO silicone catheter
1 Desilet with peel-apart sheath type 1146
1 dilator
1 tunnelling needle
1 10 ml syringe
2 injections caps
1 scalpel
---
Catheter
Lumen 1 (venous)
Lumen 2 (arterial)
Code
Ext. Ø
mm
Ø
Fr
Length
cm
Useful length
cm
Ø
mm
Flowrate
ml/min
Prim. vol.
ml
Ø
mm
Flowrate
ml/min
Prim. vol.
ml

2296.111

3.75
11
39
27
0.8
64
0.75
1.0
204
1.04

2296.112

3.75
11
46
34
0.8
49
0.78
1.2
163
1.21

2296.190

4.5
14
39
27
1.0
165
1.00
1.0
165
1.00

2296.260

4.5
14
46
34
1.2
155
1.20
1.2
155
1.20

2296.951

3.0
9
39
27
0.7
75
0.72
0.7
81
0.69

2296.952

3.0
9
46
34
0.8
56
0.81
0.8
59
0.83
Contains Latex

: No

Contains DEHP

: No

Contains biogical or animal-based product

: No

Non-pyrogenic

: Yes
Contact Information