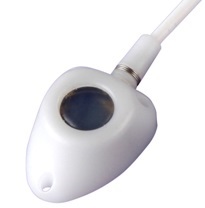 POLYSITE ISP Mini Series 3000
Adult venous implantable port with Mini port and peelable introducer (7Fr or 8Fr).
About Product
Two types of port existing:
Port with catheter to connect in silicone (codes VPE3007ISP and VPE3008ISP) or in polyurethane (code VPE3017ISP).
Port with pre-connected catheter in silicone (codes VPE3107ISP or VPE3108ISP) or in polyurethane (code VPE3117ISP).
Each percuteneous placement kit Polysite ISP contains:
One titanium and POM (polyoxymethylene) mini port with a silicone septum,
One 60cm XRO silicone or polyurethane catheter. Graduation every cm with a numbered marking every 5cm from 5 to 40cm,
Two connection rings (only one for pre-connected references) with a Phynox thread containing nickel,
One straight Huber needle (22G),
One vein pick,
One flushing connector (for non pre-connected references), pre-connected to the catheter,
One 10ml syringe,
One J guidewire graduated every 10cm – 0.035″ – 60mm,
One puncture needle – 18G – 70mm useable length,
One tunneler diameter 2.5mm – length 23cm,
One peelable introducer – length 17cm.
Implantable port
Catheter
Introducer
Code
Prim. vol.
ml
Ext. Ø
mm
Material
Connection
Diameter
Fr

3007 ISP

0.35
1.02 x 2.16
Silicone
To connect
7

3008 ISP

0.35
1.2 x 2.4
Silicone
To connect
8

3017 ISP

0.35
1.45 x 2.3
Polyurethane
To connect
7

3107 ISP

0.35
1.02 x 2.16
Silicone
Pre-connected
7

3108 ISP

0.35
1.2 x 2.4
Silicone
Pre-connected
8

3117 ISP

0.35
1.45 x 2.3
Polyurethane
Pre-connected
7
Contains Latex

: No

Contains DEHP

: No

Contains biogical or animal-based product

: No

Non-pyrogenic

: No
Contact Information