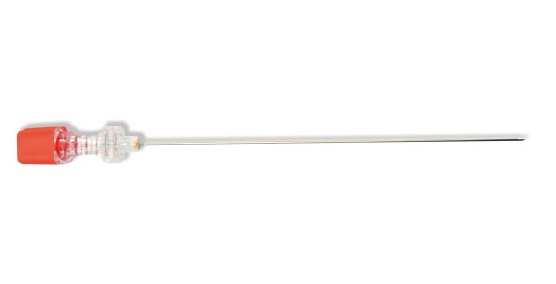 Spinal needle with Quincke bevel
Spinal needle with short bevel "Quincke" type with transparent hub and stylet.
About Product
Ergonomic design of the hub to ensure easy handling and insertion. The hub of the stylet is fitted with a lug to indicate the bevel orientation and to easily reposition the stylet within the needle in case of necessity. The hub of the stylet is also colour coded according to the diameter of the needle. Some needles are supplied without introducer; other needles are supplied with a metallic introducer needle to limit the risk of bending / kinking of the Quincke needle and the risk of deviation of the needle tip.
Needle
Introducer
Colour code
Code
Ext. Ø
mm
Gauge
G
Length
mm
Length
mm
Ext. Ø
mm
–
colour

180.04

0.42
27
90
38
0.7
Grey

180.05

0.53
25
90
38
0.9
Orange

180.55

0.53
25
50
–
–
Orange

180.75

0.53
25
75
38
0.9
Orange

180.93

0.35
29
90
38
0.7
Red

180.94

0.47
26
90
38
0.9
Brown

5180.04

0.42
27
90
–
–
Grey

5180.05

0.53
25
90
–
–
Orange

5180.35

0.53
25
30
–
–
Orange

5180.75

0.53
25
75
–
–
Orange

5180.76

0.60
23
75
–
–
Blue

5180.94

0.47
26
90
–
–
Brown
Contains Latex

: No

Contains DEHP

: No

Contains biogical or animal-based product

: No

Non-pyrogenic

: Yes
Contact Information