Know Your Port
With increasing cancer incidences worldwide, the need for an efficient, comfortable, and less intensive long-term treatment method rises. This is where a chemo port comes to the rescue of both the clinician and the patient – the patient by saving them the pain and discomfort from several jabs, risk of infections and skin irritations, and the clinician by saving them the time needed to prepare the area before pricking a new needle into the skin every time.
1 in 9 Indians will develop cancer during their lifetime (0-74 yrs of age).
Cancer Statistics 2020: Report from National Cancer Registry Programme, India
What is an Implantable Port and who needs one?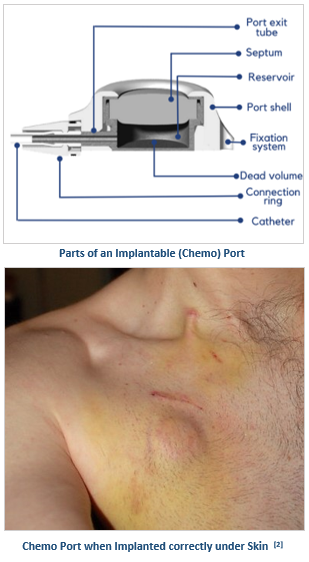 A chemo port also called an implantable port, is a totally implantable venous access device, wherein a catheter is linked to a port body and placed subcutaneously in the patient, allowing permanent central venous access for delivering long-term intravenous therapy, usually more than 3 months, like chemotherapy, antibiotics, parenteral nutrition, pain management, fluids, and blood sampling.
Ports are indicated in cases usually requiring central venous access for more than 3 months, when vesicant drugs, drugs with osmolarity > 600 mOsm/L (INS 2006) or 500 mOsm/L, parenteral nutrition with osmolarity > 800 mOsm, or drugs with pH > 9 or pH < 5 need to be administered. [1]
Although not all chemo patients get ports inserted, it is often requested by some because they allow more normalcy in their everyday lives by increasing the aesthetic appearance and requiring limited maintenance. For instance, the patients can swim, sleep on their stomachs, or take a shower hassle-free with a port in (assuming that the surgery is performed right). It is the best option for patients that have poor venous access and when administering certain chemotherapy drugs that are too caustic to be delivered into the peripheral vein.
Where are Implantable Ports placed?
The implantable port should sit snugly in the junction between the superior vena cava and the right atrium of the heart. Naturally, the most preferred insertion pathway is the venous access routes, superior vena cava in particular, through the jugular vein, subclavian vein, axillary vein, or cephalic vein. In cases where the superior vena cava is inaccessible, the inferior vena cava is used through the femoral vein.
What are the Implantable Port Indications and Contraindications?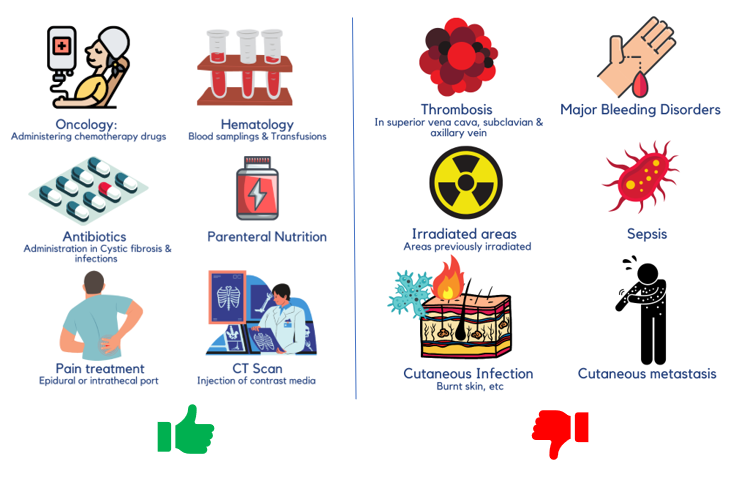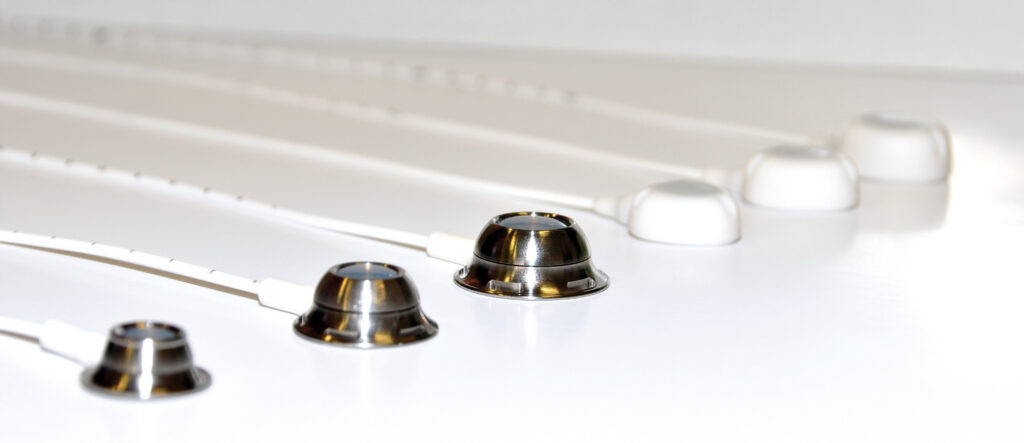 What is Vygon's take on this?
As vascular access experts, Vygon works closely with clinicians and patients to provide products that combine the ideal dwell time with ease of use, effectiveness, and value for money. Vygon's range of ports is specifically designed as a one-stop central venous access device for both pediatric and adults with a great focus on patient comfort while delivering secure, long-term intermittent IV therapy.

Vygon's Hybrid implantable port, Polysite, is a hybrid combination of titanium and polyoxymethylene (POM) that are large and lightweight prove to be much much safer than other full plastic ports in the market as the risk of particulate formation from the Huber needle scratching the Titanium reservoir base is negligible. It has a titanium reservoir with a residual volume <1ml and an extremely smooth surface that ensures less dead space for infections.

When aesthetics and patient comfort are of the utmost importance to the patients, Vygon's low-profile full titanium port Sitimplant and hybrid ports are the ideal go-to options. Sitimplant has a round base for better stability and durability. Vygon's range of ports has wide applicability from adult to pediatric patients having both high and/or normal BMI. Adding to their benefits, they are MRI-compatible** and CT-compatible.
**tests realized according to ASTM F 2052-06e1 standard
Owing to its ergonomic shape, the ports have high ease of insertion into the skin pocket and the Silicone septum can be easily located by palpation. All Vygon ports are available with a variety of insertion kit accessories, including 22G Huber needle, to ensure the right placement is achieved at the very first time using any preferred technique. Both Polysite and Sitimplant come with an extensive range of Silicone and PUR catheters of different gauges that may be preconnected or not, using a radioopaque connection ring.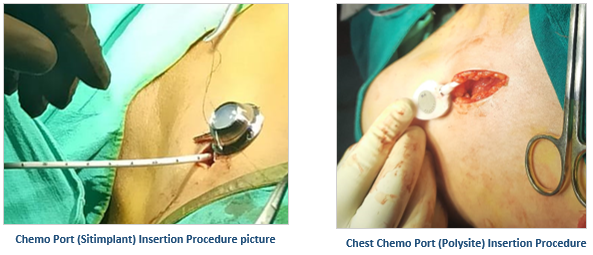 Other innovative solutions from Vygon for enabling access to these implantable ports will be discussed in the subsequent blogs.
For More Information Click here 
For queries and/or demonstration, contact Click here 
References: –
[1] Pittiruti, Mauro, et al. "ESPEN guidelines on parenteral nutrition: central venous catheters (access, care, diagnosis and therapy of complications)." Clinical Nutrition 28.4 (2009): 365-377.
[2] Picture Source – Flickr: https://www.flickr.com/photos/penmachine/1525839945